Manhattan Beach Insider: Trivia Night at Pitfire Pizza
Jun 17, 2014 03:22PM ● By Jeanne Fratello
Can you name the last ten cities in the world to host the Olympics? Can you identify Johnny Depp's female co-stars from all of his movies? Can you identify New York politicians from the 1800s to the present by their pictures alone? If you answer "yes" to any of these questions, you could be on your way to free drinks, gift certificates, and most importantly, bragging rights at
Pitfire Artisan Pizza's
Tuesday Trivia Night.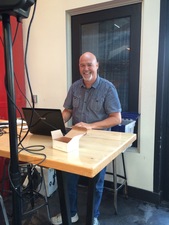 The good-natured contest, run by trivia master Ken of
King Trivia
, pits teams of friends and families against one another for several rounds of head-scratching questions. Each round is a little bit different, ranging from visual clues (name that logo), to answering a bunch of questions and finding the common link between them all.
Some questions are easy enough for kids, yet other questions will stump even the most well-read Alex Trebeks in your group. It helps if you have a good range of experts (sports, TV, history, entertainment, science) on the team.  Super-secret insider tip: If you look on King Trivia's Facebook page on the day of the trivia contest, you'll find an answer to one of the tough questions coming up later that night. The only thing that's absolutely
verboten
is pulling out your phone to look for answers (that's cheating!).
On one recent Tuesday night, teams battled it out through six rounds of trivia, plus a bonus round for free drinks. The bonus round in this case was a competition to see which team could create a paper airplane that would fly the farthest.
If you play often enough, you could earn your team a top spot on King Trivia's rankings page. The top 30 teams are eligible to play in the Tournament of Champions for a $1,000 prize. How do you stack up against your fellow Manhattan Beach residents for trivia knowledge? Come on down on Tuesday night and put yourself to the test!